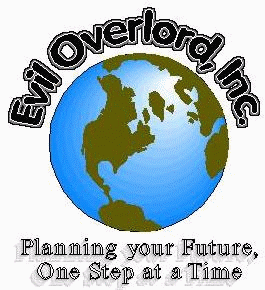 A Message From Our CEO
As the Corrupt Evil Overlord here at Evil Overlord Inc., I'd like to take a moment to welcome you to our website. I hope that as you look around, you find the scheming, oppression, and ruthlessness you are looking for. But I think you will also find something else: caring and commitment.
We realize that today Evil Overlords are more prevalent than ever before. With so many out there vying for global domination, it takes something special for one to emerge as an industry leader. Here at Evil Overlord Inc, we care about the individual. Other Overlords have shown a tendency to make broad sweeping plans and think only in terms of vast armies. But we believe that this is a mistake; every individual is different and has different strengths and weaknesses. If we don't take the time to learn about them and adjust our plans, then we're not doing our jobs. It is somewhat of a cliche these days, but we are proud to say that we "think global and act local". You have my promise that each and every one of you will be carefully scrutinized, assessed, and dealt with accordingly.
Now, you might not put a lot of stock in such promises. We've all seen Overlords shout out grandiose statements about future plans, only to subsequently fail in them. But that's not how we work at Evil Overlord Inc. I assure you that I have the dedication and commitment to carry out all my plans. And this philosophy extends down the chain. I feel that if I have commitment, all my henchmen should definitely be committed. Whenever you have occasion to deal with them, I'm confident you'll agree.
We realize that we're not the only provider of misery and repression. But we think we're one of the best. We look both to the future and to the individual. Here at Evil Overlord Inc, we're planning your future -- one step at a time.